MC Ranch, South Texas
5 star showplace
Featuring Quail, Dove, Exotic plains game, Wild Boar, Wild Turkey and among the world's finest Free Range Whitetail Deer hunts 15,000 + – acres.
Free range and high fenced whitetail deer hunts offered
Featuring a 7500+ square foot fully furnished lodge with 360 degree views and approximately 15,000 + acres of hunting Call for dates
About the ranch
When on the lookout for hunting ranches in south Texas, this ranch is the premiere choice for exotic plains game, whitetail deer hunting, and wingshooting. Given its prime whitetail hunting location in the "Golden Triangle of Texas," it distinguishes itself among Texas deer hunting ranches for its convenience and wide range of amenities. The ranch is located southwest of Uvalde, Texas, and it operates year-round (excluding major holidays). In addition to its function as a working Texas cattle ranch, its hunting concessions total over 30,000 acres in Maverick, Uvalde and Zavala counties. Over the years, the hunting operation has become nationally recognized for its trophy whitetail deer, exotic plains game, and wingshooting offerings.
The town of Uvalde, with a population of over 16,000, is remote enough for seclusion but only twenty minutes away from a private airport, county regional hospital, sporting goods suppliers, golf course, swimming, banks, restaurants, movie theaters, and taxidermy and other centers for processing game. The land abounds with trophy white-tailed deer, exotic plains game, doves, bobwhite and blue quail, Rio Grande turkeys, coyotes and bobcats. San Antonio International Airport is only ninety minutes away from the ranch. With first class accommodations, you can rest assured that your stay will be an experience different from any other South Texas hunting ranch. The staff is dedicated to going above and beyond for you to experience a Best-in-Class hunt. The lodge provides hunters with plenty of space, so you can easily arrange for a corporate outing or other large-scale events at the ranch. Among Texas deer hunting ranches, it prides itself on the quality of every aspect of its operation: from the very lodgings you stay in to the enthusiastic guides who help you during your hunt.
Texas Whitetail Hunts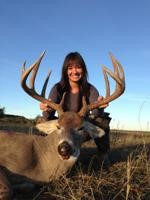 In Texas, whitetail hunts can be enjoyed not just by hunting enthusiasts but by outdoorsmen as well. Compared to other Texas whitetail hunting ranches, it provides more opportunities and first class accommodations that are sure to please, whether you are entertaining corporate clients or simply taking some days off for the experience.
Fact: Hunts take place over 25,000 acres in the "Golden Triangle Texas." According to recent studies, throughout the entire state of Texas, over 70% of all typical and 45% of all non-typical Boone & Crockett whitetail entries come from a thirteen county area. This is known as the "Golden Triangle of Texas." The pastures of the ranch feature game managed by professionals and are lightly hunted. Clients typically see an average of 20-40 bucks per day, including several that will get your attention! Consider this: the 2008 deer hunting season produced fifteen of the 200 bucks listed in the South Texas "Los Cazadores Big Buck Deer Contest."
Throughout your hunt, you will enjoy fine Southwestern cuisine and wild game dishes, clean and comfortable accommodations, and your group will be accompanied by one of the most experienced and enthusiastic professional guides in Texas. There are a number of different packages available for you to enjoy for memorable Texas whitetail hunts. Those who visit will also will enjoy hunting for other species in the bush,
Free Range Corporate Hunt- $4950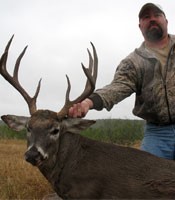 Corporate Whitetail Hunts – For companies who entertain clients
2 Buck Hunt / 4 species – 4 day hunt with high success rates
Includes hunt for 1 corp buck up to 140 gross, 1 cull buck, 1 doe, 1 wild boar, 1 bobcat, coyotes
Corp bucks are any size Mainframe 8 pointers or less with unlimited kickers
Meals, lodging, game care
2×1 guided
Classic Free Range Trophy Hunt $10,900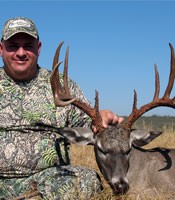 Hunts for the discriminating Trophy Hunter/ hunting for the largest mature buck that can be found on the hunt
2 buck Hunt / 5 Species
4 day hunt with high success rates
Includes: 1 trophy buck, 1 cull buck, 1 doe, 1 wild boar, 1 bobcat, coyotes
Meals, lodging, game care
1×1 Guided
Monarch Trophy Hunts
Record book opportunities on large acreage.
Preserve game fenced area over 10,000+ acres
4 Species- whitetail buck, 1 Doe, wild boar, coyotes and bobcats.
4 day hunt with high success rates
Includes: 1 buck, 1 cull buck, 1 doe, 1 wild boar, 1 bobcat, coyotes
A challenging hunt on select, large acreage on the ranch that has produced 170-200+ B&C bucks for our previous clients
Meals, lodging, game care
1×1 Guided
Monarch Rates: high fence
$4995 hunt fee- covers 4 days/3 nights/6 hunt sessions
Example-Thursday noon-Sunday noon
This $4995 hunt is good up to 140BC gross and is any mature buck, any number of points, etc.
Non-refundable. Covers meals, lodging and guide fee.
Additional Trophy fees: Due at ranch upon harvest. Based on gross B&C scores following harvest. These fees are in the addition to the $5500 "Hunt Fee" outlined above.
141-150 $0
151-160 $1500
161-170 $2500
171-180 $3500
181-190 $5000
191-200 $7000
201-210 $9000
211-220 $11,000
221-230 $14,000
231-240 $17,000
241+ $20,000
---
Exotic Plains Hunting
Daily rate- includes meals, lodging, and guide fee $400 per day/per person. There are no ½ day rates.
+ Exotic Trophy Fees
Black Buck- $3950,
Axis -$4500,
Fallow Deer- $4950,
Aoudad Sheep- $4950,
Gemsbok- $6950.
Also Available are Red stag–Trophies are $7500 (Cows are $1000 )
As well as axis, fallow, and black buck females for $750
---
In South Texas, Dove Hunting and other wingshooting can be bountiful with the right ranch
Texas-Style Bird Hunting
Doves over grain fields, wild bobwhite, blue quail, or Rio Grande gobblers…no matter your passion, our ranches offer thousands of acres of prime habitat in South Texas. If it's dove hunting or any other game you're interested in, we can accommodate it. From September through May, there is rarely a week in Texas when bird hunting aficionados will ever run short of options. For corporate groups, fathers and sons, families or friends, there is no better way to spend a weekend in Texas, with bird hunting packages that provide prime locations for enthusiasts.
Package South Texas Dove Hunts
For the Dove wingshooter, the grainfields of milo, corn, sesame, and sunflower that surround the Pearsall, Dilley, Hondo and Uvalde areas hold the largest concentrations of Whitewing and Mourning Doves found in North America (excluding Mexico). In our little slice of South Texas, dove hunting becomes an unforgettable experience, with brush providing great nesting cover, and water ponds scattered throughout that provide world class pond shoots. If you're ever in Texas, this bird hunting package just might be that challenge you're looking for.
Package Dove Hunt includes: $1,250 pp/ min of 10. Very early booking suggested.
3 days/2 nights/ 3 shoots- example Thursday noon-Sunday noon
Lodging on ranch
Meals
Guides
Bird cleaning
Transportation
Skeet shooting
Package Quail Hunts- $3,350 pp
This area is one of the last places on Earth where native, wild Bobwhite Quail exist in healthy numbers. In this area of South Texas, quail hunting expeditions provided the ideal habitat, consisting of pods of brush providing cover, and grassy meadows where pointers can work the coveys. We have had days of over 30 coveys! Quail hunts include hunting over bird dog pointers, meals, lodging, guide, cold beverages, birds processed and packaged. If you ever visit our ranch in South Texas, and dove hunting isn't your thing, then this package just might be what you need. 8 hunters minimum.
Wild Bobwhite and Blue Quail
November – February
Bobwhites & Blue Quail
3 Day Hunt
Meals, lodging, bird cleaning
Guides & Drivers Provided
$3,350 per person- min of 8 hunters
Example- Arrive Thursday night with dinner
Hunt Friday and Saturday morning.
Depart after brunch Saturday.
4 hunter minimum Released Bobwhite Quail hunts
3 day/2 night package
140 BIRDS!!!
We release 35 birds per gun per hunt session! NO EXTRA BIRD FEES! And no processing fees!
You will arrive at the ranch for lunch on Day 1 and hunt that afternoon. On Day 2, you will awake for a full breakfast and start your hunt as the staff clears the plates. You will hunt until around noon, then return to the lodge for lunch. After lunch, you could take a nap or try your hand at a round of targets on our skeet range. At around 3:00 p.m., you will load up again for an afternoon of quail hunting. On Day 3, you will again start hunting after breakfast. When you finish your morning hunt, you will return to the lodge for lunch, while the guides process and package your birds in your own personal cooler. Clients hunt approximately 3500 acres of land that has been "stripped" to enhance quail habitat and provide great hunting over bird dogs.
Price: $3,500 per person all-inclusive*
* This Package Includes:
140 Birds
(35 released birds per gun per hunt session. No extra bird fees or processing fees)
Deluxe Accommodations** for 2 Nights
All Meals*** & Beverages

Day 2 – Breakfast, Lunch & Dinner

Day 3 – Breakfast & Lunch

Dogs, Trucks & Guides
Game Processing at no extra charge
*(Package price does not include hunting licenses, ammo, or gratuity.)
Please note that, for safety reasons, only breech opening shotguns (side-by-side or over-and-under) are allowed.
Also, all quail hunters at the ranch are required to wear eye protection in the field. No exceptions will be made.
Package Spring Turkey Hunts
In South Texas, the turkey hunting is always exciting, thanks to an ever-increasing population of over 750,000 birds. In 2012, our clients were 95% successful. Rio Grande Turkeys respond well to spring calling for the hunter in search of a Grand Slam of Turkey hunting. If quail-hunting doesn't provide a big enough catch for your tastes, then this package is just what you need.
Package Hunt: March – May
High Success Rates
Mature Rio Grande Gobblers
3 Day Hunt
Meals, lodging, bird cleaning
Guides Included
$2,500 per person
Package Upland Bird Hunts

Package Hunt:
Quail, Pheasant, and Chukkar
3 Day Hunt
Meals, lodging, bird cleaning
Guides & Drivers Provided
$4,500 per person
Lodging
The ranch features 6 bedrooms consisting of an arrangement of some rooms with very high quality queen size/ twin bunk bed arrangement and bathrooms and others with a simple high quality bunk bed arrangement and bathrooms. 8 bathrooms total.
Mexican Saltillo tile floors, hand painted tile sinks and bathrooms. Duel fireplaces comfort the dining room and great room living area.
Indoor and patio bars with card tables and billiards table with patio TVs. The great room is equipped with a big screen TV.
A dark wood, beautiful gun/mud room features individual lockers with a boot and slipper spaces, hat & clothing racks, and gun racks.
Outdoor fire pit provides a wonderful camaraderie at night for a conversation over a drink, discussing the days hunt under the stars, while listening to the wild coyotes howl.
Skeet range provides fun shooting action. The range is a mountain top skeet range with 360 degree views for shooters as they participate.
Great room and lodge features taxidermy mounts from the ranch and surrounding acreage. Leather couches and recliners fill the room.
Several ponds and a large lake provide great fishing on the ranch as a bonus. Multiple species of exotic plains game are available to the hunting client on a trophy fee basis.
Lodge
The lodge is a 7,500+ square foot, fully furnished Spanish-style hacienda which can accommodate up to 28 guests. Built upon a tall hill, which rises 700 feet above sea level overlooking quail strips and cultivated fields, the lodge's windows and patios offer 30 miles of breathtaking views all the way to Maverick county. The lodge offers a relaxing "prop your feet up" atmosphere including:
Great room featuring big-screen satellite TV equipped with sports and outdoor channels, and Internet capabilities
Dining room/meeting room with fireplace; accommodates 12 guests
4 individual suites with baths
2 bunkrooms with baths
8 total bathrooms
Full service kitchen
Dual fireplace in great room/dining room
Professional gun room for firearm storage
Professional skeet range
Professional rifle range
3D archery range
Game cooler/processing area
Campfire pit overlooking the ranch
Outside pool table and poker tables
Front and back patios
Previous photos from the ranch
Preserve high fenced bucks from past hunts