Riata offers a variety of elk hunts across Texas, New Mexico, Colorado, Utah, Idaho, and Arizona.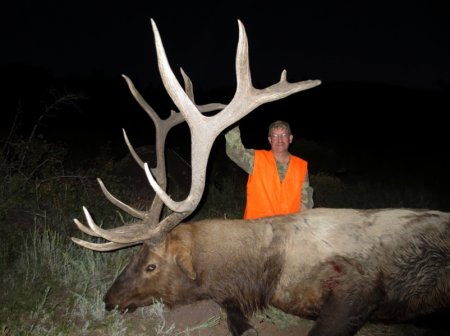 Riata's hunters and their recordbook free range, fair chase bulls scoring 385-415 Boone & Crockett! We're all over the record books!
Riata is a premier trophy elk hunting company offering free range, fair chase Rocky Mountain elk hunting in 7 states including New Mexico, Colorado, Utah, Arizona, Idaho, Nevada, and the mountains of West Texas.
We hunt Tule Elk in California and Roosevelt Elk in British Columbia , Canada where our guide holds 4 of the top 10all time record book bulls!
We hunt free ranging ranches from 7000-450,000 acres. We guide our hunts 1×1 or 2×1 depending on private land where you'll stay in everything from a 5 star lodge to tented camps depending. We hunt by walking and calling, horseback and ATV.
Additionally, we offer preserve hunts on very large, fair chase ranches in Utah, Idaho and New Mexico AVERAGING 6000-12,000 acres in size! No interior cross fences, no ear tags, no " put & take", just wild native elk with great genetics that have been allowed to get old, reach mature trophy quality, and be harvested at peak age.
Big free range elk are in huge demand. There are no secrets in trophy elk hunting. Today's elk hunt prices are very much defined by the quality of bulls in the area your hunting.
The elk hunt we recommend to you will be based on your trophy goals & budget. Call us today to consult!
Mike Gardner
Riata Worldwide Hunting & Fishing
"Sportsman's Connection to Texas & Abroad"
(512) 261-2400 | [email protected]