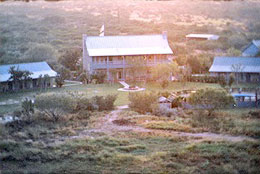 624 Ranch has long been regarded as one of the finest south Texas deer and wingshooting ranches in the state. Catering to clients from across the country, the ranch has become a hunting tradition for many of our customers. The ranch is dedicated to trophy management of whitetail deer and wingshooting including nutrition programs for both big game, as well as dove and quail populations. The sole goal is to continue to improve on the ranch's stellar reputation as one of the top hunting ranches in the country.
Located on over 7,000 acres contiguous of extensively improved and fertile land bordering the Nueces River, the Ranch has miles of underground irrigation systems, 400 acres of protein rich crops cultivated for wingshooting, and over 60 watering stations for dove and quail. The management scheme is augmented with year round feeding programs producing trophy game which affords countless opportunities for the sporting enthusiast.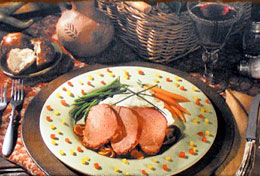 The guests can develop quite an appetite hunting. The ranch takes pride in the culinary prowess of its chef and staff, and want to make sure you go to sleep with a full stomach and a smile on your face. You'll love the creature comforts, game room, fine dining and hospitality. Your stay will be memorable. If you have any special needs or might be allergic to certain foods or spices just let us know and we'll be glad to accommodate.
HOSPITALITY: SOUTH TEXAS STYLE

The 9,000 square foot Texas heritage style lodge provides relaxation among primitive Texas furnishings, game trophies, original art and antiques. The spacious bunk room can provide meeting space for up to 16 people or up to 30 people in the lodge dining area. There is plenty of space in the large trophy room for a game of pool, playing cards, shuffleboard, catching up on some reading or enjoying a ballgame. Also provided, a nice, cool swimming pool where you'll be able to unwind warm day of dove hunting.
SOUTH TEXAS LIVING!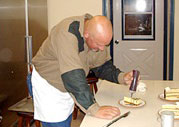 No visit to south Texas would be complete without tasting an authentic Texas margarita! The chef has a secret recipe – that he would be glad to share with you. The cuisine provided at the Ranch is an elegant but hearty menu of wild game, thick steaks and chops, all mixed with classic south Texas side dishes that are second to none. And just when you think you can't possibly eat another bite the chef will bring out a dessert so delicious we're sure you'll be able to find room. After your meal, enjoy a glass of wine or fine cigar after a day of hunting on the front porch of the ranch.
624 RANCH: AMENITIES
9,000 square-foot lodge
Five separate bedrooms
Sleeps 24 guests total
Three rooms with queen and twin beds
One room with four twins
Two large bunk rooms
Sleeps 12 guests
Swimming pool
Five stand sporting clays
Pool table
Poker tables
AVAILABLE HUNTS
A non-refundable deposit of 50% of the hunt fee is required in order to confirm the date.
GAME BIRD HUNTS:
Dove Hunts:
Four person minimum (3-day hunt)
10 person minimum (3-day hunt)
Up to 26 hunters maximum (3-day hunt)
Cast & Blast Combo Hunt:
A combo 2-day dove hunt and 2-day bay fishing on the Texas coast in a 3-star fishing lodge.
Three fisherman to a boat; includes meals, guide, tackle, bait, open bar, and 3-star lodging.
Quail (Blues & Bobwhites):
3 person minimum (3-day hunt)
Price includes dogs, trucks, guides, and birds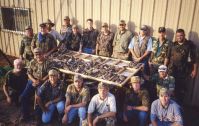 TROPHY WHITETAIL DEER HUNTS:
Herradura Management
Hunt – Youth:
Up to a 124 7/8″ B&C
3-day hunt
(This youth gold hunt is for youth hunters under 17 years of age)
Herradura Bronze:
Gross B&C score of 125″ to 139 7/8″
3-day hunt
Gold:
Gross B&C score of 150" to 159 7/8″
3-day hunt
Buck of a Lifetime:
170″ to 179 7/8″ Gross B&C and up.
Call for availability
Monster Buck:
180″ to 189 7/8″ Gross B&C and up.
Dream Buck:
Herradura Management
Hunt – Adult:
Up to a 124 7/8″ B&C
3-day hunt
(This youth gold hunt is for youth / adult hunters 17 years of age and older)
Herradura Silver:
Gross B&C score of 140" to 149 7/8″
3-day hunt
Platinum:
160" to 169 7/8″
Gross B&C, call for availability
Doe Hunts:
3-day hunt
Price includes two whitetail does
Mossback Hunts:
190″ to 199 7/8″ Gross B&C and up.
SPRING TURKEY, HOG AND VARMINT HUNTS:
Spring Turkey:
3-day hunt
Price includes one long beard
Pricing varies for each additional turkey
Coyote & Bobcat Hunt:
3-day hunt
Two person minimum, no limit on coyotes
Only one bobcat per hunter, pricing varies for each additional bobcat
Feral Hog & Javelina Hunt:
3-day hunt
Price includes two animals
Pricing varies for each additional animal
No hunting with dogs
5-Stand Sporting
Clays Shooting:
Call for pricing per round
**Observer / Photography fee for all hunts: priced for the length of the hunt
ALL COMBINATION HUNTS (IN SEASON):
Call for price and availability. All hunts are 3-day hunts: two nights/three days stay. Arrive after lunch the first day and depart at noon on the last day.
*All Herradura guided hunt prices include food and lodging on the ranch and one on one guide service where appropriate. Other enjoyable outdoor activities include bass fishing in between morning and evening hunts.