Redfish, Spotted Sea Trout and Drum
4-STAR LODGE
The lodge is more than just great fishing facility. Located along the gulf coast of Texas in Rockport, it is situated on a mile long peninsula, overlooking majestic Copano Bay on one side, and an unspoiled marsh on the other. It is the perfect setting to relax and enjoy the best sunsets the state has to offer.
The lodge offers luxury accommodations and gourmet dining, including a beautifully furnished interior for an array of functions, meetings, dining, socializing or just plain entertaining. The facility is perfect for small or large groups of fishing enthusiasts or corporate groups that are looking for a special locale to have some serious fun.
Please call (512) 261-2400 to make a reservation, or for any questions or comments.
We leave nothing to the imagination. The lodge was one of the first lodges to explore the options of saltwater sport fishing on the Texas Coast. As a result, we have incomparable knowledge of the fishing areas and techniques required to maintain the status of a world class fishing destination. The lodge has a full staff of its own experienced professional guides that will plan your fishing trip to suit your needs; whether it be wading the back lakes and fly casting to tailing fish, or throwing topwater lures for trophy specks. You can also enjoy fishing at night off our private lighted piers and beach.
The main lodge is located on the tip of Rattlesnake Point, approximately 10 minutes west of Rockport, Texas. Rattlesnake Point is a mile long, narrow strip of land that separates Copano Bay in the north from Port Bay in the south. This means the fishing is always just steps away!
The lodge is first a fishing lodge. It sleeps 18 people in two guest houses, both with wrap around porches and water views. The nine rooms have private baths, central air, two double beds and satellite television. Guests can also enjoy the views from the in ground pool.
The main lodge features a well appointed dining room, comfortable living room with a see through fireplace and bar facilities. Outside you'll find a hot tub on our expansive deck, and a beach with four sets of stadium lights for night fishing. Across the lawn to the south, there is a 500′ lighted pier with under water "green lights", also for night fishing.
All facilities, buildings, landscaping, recreation facilities and marina are complimentary to the fishing. In order to provide the best in bait, boat, and tackle, there is a boat barn, tackle repair shop, maintenance shop, commercial ice maker, freezer room and a boat fueling station.
Our enthusiastic staff are always on hand to ensure you enjoy a first-class experience, both on and off the water.
Have a group larger than 18 people? Book the Ruddy Lodge also and we can handle a group of up to 26.
Finally, if you are looking for a more private lodge for smaller groups, the Ruddy Lodge takes the fishing experience to a new level. Housed in a 3600 square foot Vermont timber frame structure, it is the ultimate facility for groups of six to eight guests. The Ruddy is reserved solely for groups who want their own private lodge and staff.
The fun furnishings combine the old and the new to compliment the beautiful structure. The furnishing theme comes from the owners' family background. Many of the 1930's artifacts come from Conklin and Garrett shows.
The Ruddy was designed to operate independently from the Main Lodge. It has its own dedicated operating personnel, chef, hosts and service staff. You can best describe the difference between the two lodges by drawing the analogy between hotel executive floors and their other accommodations. However, the Ruddy Lodge offers all the same fishing experiences as the Main Lodge.
The Ruddy Lodge, like the main lodge, offers packaged excursions – a guided fishing package and a holiday package. Both include two nights accommodations, all meals, fishing tackle, catch care, beverages, and transportation to Corpus Christi International Airport for flights scheduled between 3:00 pm and 6:00 pm. We can create custom packages and longer stays can be arranged. The only difference between the two packages is that one offers guided fishing and the other does not.
All packages at the Ruddy include:
Spacious timber frame, great room with lounge, bar, dinning area and fireplace.
Snacks, chips, cookies, fruit, out at all times.
The great room entertainment center is fully equipped with surround sound, TV and video library.
The upstairs lounge is prepared for your enjoyment with billiards table and games area.
Before dinner appetizers and cocktail hour.
Fully packed fridge for midnight snacking.
Huge deck to relax with a libation.
Special lighting on the bay for night angling.
500 ft lighted fishing pier with special fishing lights.
Extensive private shoreline.
The package price includes everything except Texas fishing and hunting licenses, our "cellar" wines (house wine is complimentary), gifts to take home from our gift shop, and staff gratuities.
THE FISHING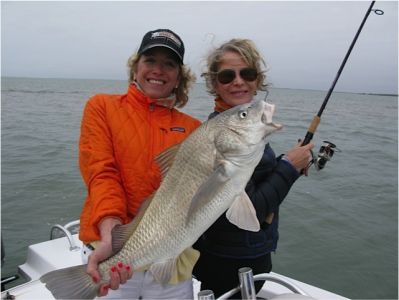 All of the fishing at the lodge is done in the bay systems surrounding Rockport in six inches to six feet of water. Our guides have extensive knowledge of the waters and fish out of 21 to 24 foot shallow-draft boats designed for this area. Two or three fishermen and one guide will be assigned to each boat, unless alternate plans are made in advance.
The main quarry are the redfish and speckled trout. Flounder and drum can also be found certain times of year. Some of these fish can exceed 12 pounds and are excellent gamefish and table fare.
The lodge is proud to feature American Rodsmiths fishing rods.
The tackle consists of seven foot light-action rods and reels equipped with #8-12 line. Although most fishing is done from the boat, wadefishing the flats is also very popular and rewarding. Between October and April, the water is cold enough that we recommend the use of waders.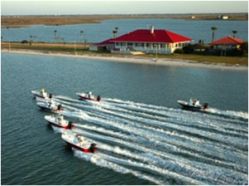 During the right times of year and in the right weather conditions, stalking and sightcasting to feeding fish can make for a great day. Bait and lure fishing are both effective techniques for catching the local fish. Live and dead shrimp, mullet, mud minnows, and croakers all pay off at certain times of the year. Useful artificials include topwaters, soft plastic shrimptails, and gold and silver spoons.
The lodge has six boats that accommodate three anglers comfortably for a total of 18 –– the capacity of the lodge. Extra boats and guides are available if you wish to only fish two to a boat, but there will be an additional charge.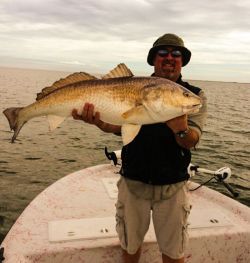 THE MEALS
Dinner Night One:

Appetizers

crab cakes
sliders
southwestern mini pies

Dinner

10 oz frenched pork chop
smoked pork loin
stuffed chicken

Dinner Night Two:

Crusted baked fish grilled
Pan seared catch of the day
DAILY ITINERARY

If you are driving to the lodge, plan to arrive at 5:00 pm for check-in. If you are flying, a lodge representative will have your flight information and will meet you at the airport, so look for our logo as you exit the plane. Our staff will then move you into your room, give a tour of the facilities, and help you rig up for an afternoon of wade fishing the beautiful flats surrounding the lodge. Dinner will be served between 6:30 and 7:30 pm, followed by orientation speech, fishing schedule, and night fishing on the pier or beach or just relaxing on the deck.
Breakfast will be served between 5:30 and 6:30 am, and you will be brought to the ramp to meet your guide for a daybreak departure. Lunch will be eaten on the boat and will consist of sandwiches, chips, candy bars, crackers and drinks that you choose yourself. The fishing day usually lasts six or eight hours, after which you will be brought back to the lodge for libations and a shrimp boil at Jimbo's Bar. The afternoon will consist of fishing and relaxing with dinner, and evening plans the same as the night before.
On the day of departure, you will have a full day of fishing if your time schedule permits. When you return to the lodge, our staff will pack your cleaned fish (if you elect to keep it) for travel while you shower and pack. Flying guests will be returned to the airport in plenty of time to check baggage, and all guests will check out of their rooms by 3:00 pm.
Snacks, cookies and drinks will be available at all times in addition to scheduled meals. Afternoon or evening trips to town can also be arranged. Changes to this standard itinerary can be made in advance –– we try to be as flexible as possible.
CLOTHING
The Texas coast can be subject to a variety of weather conditions, so preparation can make or break a fishing trip. Between June 1st and October 1st, the weather is consistently warm to hot. Shorts and short sleeve shirts of a light and fast-drying material are recommended. If you are concerned about sun exposure, most outdoor clothing companies make long-sleeve versions of their popular fishing clothes. Light rain gear is also recommended for this time of year. Sandals or sneakers that can get wet should be packed, as well as wading boots.
From October to May, the weather is much less predictable and sometimes even unfriendly. This time of year, your suitcase should include long pants and sweatshirts, an insulated waterproof jacket, and a pair of breathable or neoprene waders. T-shirts and shorts may be in order, so pack those too! If you visit in the heart of winter, add a knit hat and gloves to your list.
No matter what time of year you visit, a billed cap and a pair of polarized brown or amber sunglasses are absolute necessities to compliment any fishing outfit. If you have your own wade belt or a favorite fishing vest, bring those along too.
Bring a sunscreen of SPF 30 or more and apply it in front of the mirror in your room in the morning. A break in the fishing action at 11:00 am is already too late.
RATES
Please call (512) 261-2400 to make a reservation, or with any questions or comments.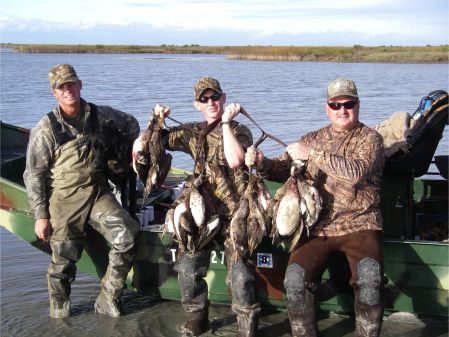 MAIN LODGE PACKAGES & PRICING (what's included)
All prices are per person / double occupancy
Two-day Package:
Guided Bay Fishing
(2 or 3 to a boat)
$1,180.00
Single Room
$1,380.00
Holiday Stay
$620.00
Single Occupancy Fishing
$1,900.00
One Day Guided / One Day Holiday Stay
$900.00
One night / one fishing trip outing
$695 per person
Fishing/Hunting Cast & Blasts:
Cast & Blast Duck
$1,440.00
Cast & Blast Dove
$1,480.00
RUDDY LODGE PACKAGES & PRICING (what's included)
All prices include the exclusive use of the lodge.
Package for up to 8 guests
$9,760.00
Package for up to 6 guests
$7,440.00
More Fees:
Extra boat and guide (up to 3 to a boat, per day): $500.00
Additional meals: $75.00
Airport shuttle (3 – 6 pm): $50.00
Airport shuttle (Before 3 pm or after 6 pm): $75.00