Black Marlin, Sailfish & Reef Fishing in Cairns
ON THE GREAT BARRIER REEF: 48″ – 56″ SPORTFISH "PIGGYBACKED" ABOARD THE 110 FT MOTHER SHIP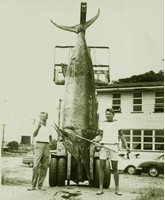 Cairns, Australia, the black marlin big game fishing capital of the world, the perfect destination to realize your expedition. The beauty and splendor of the Great Barrier Reef once experienced is never forgotten.
Game fishing for giant marlin aboard a modern sportfishing boat while relaxing on a luxury mother ship. Dining on freshly caught Coral Trout while sipping your favorite cocktail in the evening.
Cairns, Queensland, Australia became the sport fishing capital of the world for the mighty "grander" black marlin on the 25th of September 1966, when American crewman Richard C. Obach landed a world record 1064 pound black marlin on the 80-pound test line. Not only was this the first Grander black marlin caught in Cairns, but also the first thousand-pound marlin of any kind caught on 80-pound test line anywhere in the world. This made international sports fishing history for Cairns and Australia's Great Barrier Reef region. Big game fishermen from all over the world flocked to Cairns in subsequent years, with hundreds succeeding in capturing their dream billfish.
World record billfish, including the mighty black marlin and the acrobatic sailfish, are to be found in the rich waters off of the outer barrier reef. Whether light tackle world record sport fishing, fly fishing, tournament marlin fishing or conventional heavy tackle marlin fishing, Cairns is the place to be when the mighty black marlin migrates to their spawning grounds off the outer barrier reef between Cairns and Lizard Island. The Cairns fleet of modern sport fishing boats and their professional captains and crews have led the world in billfish tag and release fishing since the 1970s. This continued practice and the consequent research has seen the past five years is the best black marlin fishing for twenty years. The majority of these crews are members of the Cairns professional game.
From June to September, the waters inside the great barrier reef are abounding with the juvenile black marlin. Averaging 15 to 20 kg (30 to 50 lbs), these little fish are fantastic sport on light tackle and fly. They are readily taken on trolled bait or lure and can be easily teased to the fly. The waters off Cairns and Townsville are particularly productive for these little fish.
From September to December, the large black marlin migrates to the waters off the outer Great Barrier Reef to spawn, and it is at this time we can target these large fish. At any time during this period, you have the opportunity to catch a fish in excess of 1,000 lbs. All of our fishing charters commence out of Cairns with direct pickup or transfer by seaplane or land-based aircraft to Lizard Island or historic Cooktown.
North Queensland is our fishing playground, and we are totally familiar with all aspects of fishing in this region and what the area has to offer to anglers.
We have available the finest, modern sports fishing boats and luxury motherships, operated by professional Captains and crew. This style of fishing expedition allows the avid angler the freedom to roam the 150 nautical mile expanse of the reef system where the continental shelf abuts the outer Barrier reefs from Cairns to Lizard Island. This is the ultimate game fishing experience and is available for those purist big fish anglers, and is the best way to enjoy your angling adventure.
All of our charters are exclusive and therefore we cater to our guests' requirements.
The Great Barrier Reef is a very versatile eco-system, offering a wide variety of fishing and target species.
On the outer barrier reef where the continental shelf meets the reef is where we target marlin, sometimes only 50 yards from the edge of the reef. Small black marlin and sailfish are usually found around the inside reefs and passages. Other pelagic species such as Dorado, tuna, and mackerel are also targeted in these areas.
Along the reefs, we have artificial "popper" fish for giant trevally (jacks), coral trout, mackerel, and tuna.
BOTTOM FISHING ON THE REEF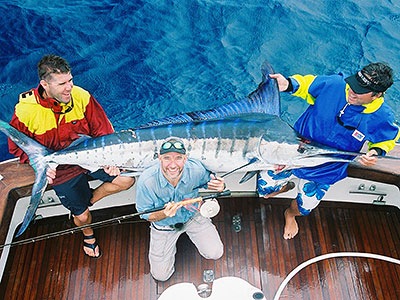 There are numerous bottom fishing species on and around the reefs. We specifically target coral trout, grouper, red emperor, and giant Cuberra snapper as well as other snapper species. These are prized eating fish. Some anglers love to experience "jigging" on the drop off for dogtooth tuna (in the vicinity of 100 lbs or more) and other denizens of the deep.
The minimum number of days for a mother ship charter is five days. Over this period we can offer a wide variety of fishing experiences and can mix the days up to make between heavy tackle fishing and bottom fishing for our clients.
The initial run of a giant grander black marlin is like no other experience.
DESTINATION CAIRNS
& THE GREAT BARRIER REEF
Cairns, where the "rainforest meets the reef." Queensland's tropical north. A vast region stretching from reefs and islands through beach and coastal wetlands to mountains and tablelands. It is a place of color and contrast, adventure and relaxation, man-made pleasures, spectacular scenery, and rich natural beauty. Tropical North's most famous attraction is the Great Barrier Reef – one of the world's natural wonders.
This world heritage listed marine park is internationally renowned, and its beauty can only be truly experienced first hand from a fishing trip to its outer barrier reef edge. Cairns, Australia, where for hundreds of years the giant black marlin has migrated to the waters off the outer Great Barrier Reef to spawn. During this period from September through December, black marlin in excess of 454 kilograms, (1,000 pounds) are regularly caught.
The major center is Cairns, a cosmopolitan tourist mecca, boasting world-class hotels, restaurants, and an international airport. The airport is situated a short 10-minute taxi ride from town and the central business district.
Qantas, Virgin Blue, Air New Guinea, and Air New Zealand, along with other international carriers, operate out of Cairns with numerous domestic flights servicing Brisbane, Sydney, and Melbourne with international connections to the east coast of the United States, South America, Europe, Africa, and Asia.
Situated 16 degrees south of the equator, Cairns has a tropical climate, which means it is warm all year. Winter temperatures average 25 C (80 F) and summer temperatures average 30 C (89 F).
THE MOTHER SHIP
Come aboard the mighty mothership for the ultimate way to experience first hand the wonders of the Great Barrier Reef! Experience a 115 ft motor yacht. She has just undergone a 12-month refit and is designed for customer comfort, optimizing space with a luxurious finish, all in a vessel that travels smoothly.
The interior is fitted with beautiful timbers, with picture windows in the salon area which reveal vast expanses of ocean views on both sides. She can comfortably sleep up to six guests in four staterooms, two VIP staterooms plus a spacious double and a twin cabin. There is a spacious open and covered deck area that provides easy entertainment in any weather.
The flybridge is dedicated to guest entertainment with a bubbling spa, sun pads, comfortable seating, bar, and barbeque.
On board is the latest communications systems, including of course the internet, which can be accessed by the guests over most of the Great Barrier Reef.
With everything taken care of, you can relax and enjoy the privacy of your own boat, delicious five-star meals and the finest big game fishing in the world.
THE SPORTFISH BOAT

Since the 1960s, when Captain George Bransford had the first purposely built game boat, "Seababy 1", constructed for the offshore waters off Cairns, this tradition has continued.
Today our sportfish boats are specifically designed and powered to maneuver on big billfish and crewed by experienced and dedicated, professional Captains and crews. These are "no-nonsense" fishing machines designed for battling 1000 pound black marlin.
RESERVATIONS: RATES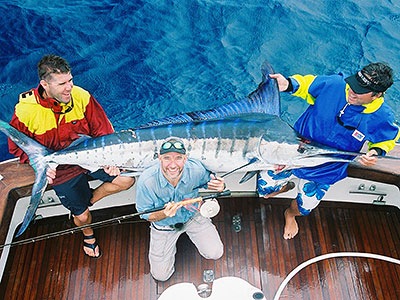 Black marlin heavy tackle fishing season runs from mid-September through till mid-December and this is the time when we experience our ultimate fishing.
The rate for this heavy tackle fishing package is $16,950 per day, and dates are October 3 and cease in Cairns at approximately 7:30 am on the morning of October 8. This includes a 48-foot game boat, professional captain and two crew, all tackle and bait, fuel and taxes and 115 ft mothership, professional crew, all chef-prepared meals, and all beverages, including alcohol.
For a bottom reef fishing experience, the rate is $15,950 per day and is available on September 21-26. This includes a 56-foot game boat, professional captain and two crew, all tackle and bait, fuel and taxes and 115 ft mothership, professional crew, all chef-prepared meals, and all beverages including alcohol. The charter would commence from Cairns at approximately 7:30 am on the morning of September 21 and cease in Cairns at approximately 7:30 am on the morning of September 26.
A 10% Australian goods and services tax will apply to all charges.
This daily rate is for three couples or four anglers. This is an all-inclusive daily rate and is not per person.
To book and confirm the charter we would require a deposit of 50%, with the balance required 70 days prior to commencement of the charter.
Currency: Charter rates are quoted in U.S. dollars.
Fees: Balance of fees is due 70 DAYS PRIOR TO COMMENCEMENT OF THE CHARTER. If a booking is made within 60 days of the commencement of the charter, full payment is required at the time of booking.
Cancellation: If a cancellation is made for any reason other than weather and sea conditions, which will be determined by the captain on the day, all payments shall be forfeited unless the charter can be replaced for the same dates. Every effort will be undertaken on the charters behalf to replace the days due to cancellation.
Insurance: We strongly recommend insuring against the loss of deposit in the event of having to cancel your reservation for any reason.